Two months ago, I traveled to Los Angeles to attend the StartingBloc Fellowship program – which is a 5 day workshop for anyone who is interested in social innovation, creating change and becoming a better leader.   I learned about StartingBloc from the guys who run ReWork, a startup that is currently located in New York City, but was started by two Pittsburghers.
I loved my StartingBloc experience and returned to Pittsburgh filled with new ideas and a network of other changemakers from around the US. A few of the things I learned about at the StartingBloc Los Angeles institute include:
Polarity Mapping – a framework for looking at problems as polarities and something that can be helpful for a variety of situations.  I think that polarity mapping could be a great tool for Pittsburgh to use to think about how to work with UPMC going forward.
LA Kitchen @TheLAKitchen – an incredible business that is run by Robert Egger @RobertEgger, who is the founder of DC Kitchen and doing amazing things to feed more people healthy food.  I was lucky enough to be able to join Robert and some of the other fellows for dinner while I was in Los Angeles
Isidore Recycling @IsidoreRecycles – is another incredible business that was started by Kabira Stokes.  Kabira spoke at the StartingBloc Institute and was kind enough to let me and some of the other fellows take a tour of the warehouse where they are recycling e-waste and proving jobs for those who were previously incarcerated.  This is a model that I would love to replicate here in Pittsburgh (and I've already suggested Mayor Peduto stop to visit Isidore on his visit to LA.)
These are just a few of the things that I brought back to Pittsburgh from my trip to the west coast.
I feel very strongly that programs like StartingBloc are important to Pittsburgh for two reasons:
Leadership Training – learning about leadership and best practices in leadership is very important.  I have learned so much not only about how to be a more thoughtful leader, but how to be a better team member.
Sharing Pittsburgh's story – these programs that bring together people from all over the country (and the world) provide a great place to let other young folks know what is happening here in Pittsburgh.  Lots of people have heard a little bit about Pittsburgh, but didn't know much more.  It is so important to make sure we have some Pittsburghers at the table to continue to share the awesome things that are happening here.
StartingBloc Stops in Pittsburgh
My praise for Pittsburgh has paid off and I have convinced Cesar Gonzalez, who is the executive director of StartingBloc, to come to Pittsburgh to tell you more about the program.
I hope you will consider joining me on Wednesday, June 25 to meet Cesar, learn more about StartingBloc and learn some new things about Pittsburgh and giving.
Thanks to the StartingBloc alumni network – we will be hosting this event at the new offices for Repair the World, a nonprofit located on Broad St. in East Liberty (this is the same building where ThrillMill and AlphaLab Gear are located.
And on the suggestion of KivaZip's Pittsburgh team – food will be catered by Salud Pittsburgh @PghSalud, a new Pittsburgh business that is making empanadas.
The GIVE: A StartingBloc Mixer for Awesome People
When: Wednesday, June 15, 2014 6-8pm
Where: Repair the World, 6022 Broad Street
RSVP: Please rsvp on Eventbrite
HERE
Join us for an evening of awesome people and making moves.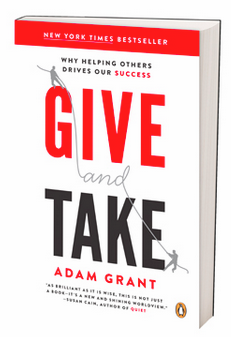 Learn how being a giver is not only fulfilling, but also one of the surest paths to success.  We'll kick off with a short talk based on new research by Wharton's youngest full-professor, Adam Grant.
Cesar Gonzalez will share what separates effective givers from push-overs, as well as strategies that successful givers use in their work life.  We'll wrap up with a group exercise in giving and time to mingle with other awesome people.
Bring the challenges you're currently working on, a pen and paper, and a new friend you think is a good fit for the StartingBloc community. There'll be time to visit with old friends, to make some new ones, and to meet Cesar, the new CEO of StartingBloc.
This is event is hosted by StartingBloc, a national Fellowship organization for social innovators working hard across sectors to build a better world.
Apply to be a StartingBloc Fellow
The StartingBloc institute takes place in various cities around the US.  There are 2 more institutes in 2014
I am committed to helping to make sure we have more Pittsburghers participating in future StartingBloc fellowships and I will help anyone who is interested fund-raise so that they are able to attend.