Big Fun Part 2!
One more last minute addition to "Git Aht" …
If you're still looking for something to do tonight, check out BIG FUN PART 2 at the Shadow Lounge tonight. What is this "Big Fun" I speak of? (CAPITAL LETTERS!!)
FRIDAY AUGUST 25TH 8:30PM-2AM
@ The Shadow Lounge BAUM BLVD. EAST LIBERTY,
OMAR-ABDUL AND THE LEAGUE OF YOUNG VOTERS HOST:
BIG FUN PT.2, "GET INVOLVED"
ADMISSION: 5$ ALL AGES

A NIGHT OF MUSICAL PERFORMANCES AND SOCIALIZING TO CELEBRATE YOUNG VOLUNTEERS AGES 18-35, IN THE FIELD OF CIVIC ENGAGEMENT AND SOCIAL CHANGE, AND ENCOURAGE MORE YOUNG PEOPLE TO GET INVOLVED IN POLITICS AND SOCIAL CHANGE. UP TO 100 VOLUNTEERS WHO HAVE BEEN REGULARLY ACTIVE FOR OVER TWO MONTHS WILL BE INVITED AS GUESTS TO ATTEND. THE VOLUNTEER RECEPTION FROM 9PM -10PM WITH CATERING, BEVERAGES AND COMMENCEMENT COMMENTS FROM LOCAL POLITICIANS AND SENIOR LOCAL ACTIVISTS INCLUDING DEMOCRATIC PARTY VICE CHAIR EDWARD GAINEY AND DISTRICT MAGISTRATE CATHY BUBASH.

FOLLOWING THE RECEPTION WE WILL CONTINUE THE CELEBERATION WITH MUSIC FROM SOME OF PITTSBURGHS MOST FUN AND ENJOYABLE BANDS AND DJS INCLUDING OMEGA LOVE, OMAR-ABDUL, EVICTION NOTICE, THE SOLEVIBE, AND DJ BUSCRATES.
Click more to see the flyer!!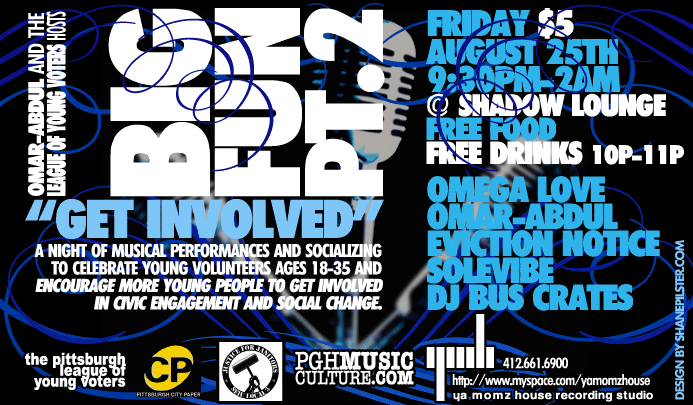 PARTICIPATING ORGANIZATIONS INCLUDE:
ACLU GREATER PITTSBURGH
THE UNION PROJECT
URBAN YOUTH ACTION
COMMUNITY EMPOWERMENT ASSOCIATION
CENTER FOR CIVIC PARTICIPATION
JUST HARVEST
ONE VISION ONE LIFE
THE ADVANCEMENT PROJECT
BLACK POLITICAL EMPOWERMENT PROJECT
PITT BLACK ACTION SOCIETY
YOUNG WOMEN'S CHRISTIAN ASSOICATION
NATION OF ISLAM MOSQUE #22
SANKORE ISLAMIC INSTITUTE
ONE HOOD
ALLEGHENY COUNTY BOARD OF ELECTIONS
PITTSBURGH INTERFAITH IMPACT NETWORK
BIDWELL PRESBYTERIAN CHURCH
ALLEGHENY DEPARTMENT OF HUMAN SERVICES
FIGHT FOR LIFERS
BOOK 'EM
PA PRISON SOCIETY
PROGRESS PITTSBURGH OF WESTERN PA
PLANNED PARENTHOOD
PENN FUTURE
EVERYBODY VOTE
LEAGUE OF WOMEN VOTERS
SIERRA CLUB
THOMAS MERTON CENTER
================================
For a limited time get $50 in ride credit when you sign up for Lyft using the code IHEARTPGH.
================================